Do you know that by using the CB Passive Income system, you can be building your own list without any webpage at all? :)
Before I proceed to explain how this even possible, first, let me explain what are required to build a list on the internet.
You'll need 4 components:
1. A domain name
2. A Hosting account to host your webpage
3. A webpage. To be more precise, an optin page for the website visitors to subscribe into your list
4. An awesome gift. This is the "offer" to convince them to subscribe
Getting a domain name and hosting are the easy part. Just go to Namecheap and Hostgator to order. That's not a problem, except for the additional monthly cost.
The problem? To design the professional optin page.
And the SECOND problem? To create the awesome gift I've mentioned above.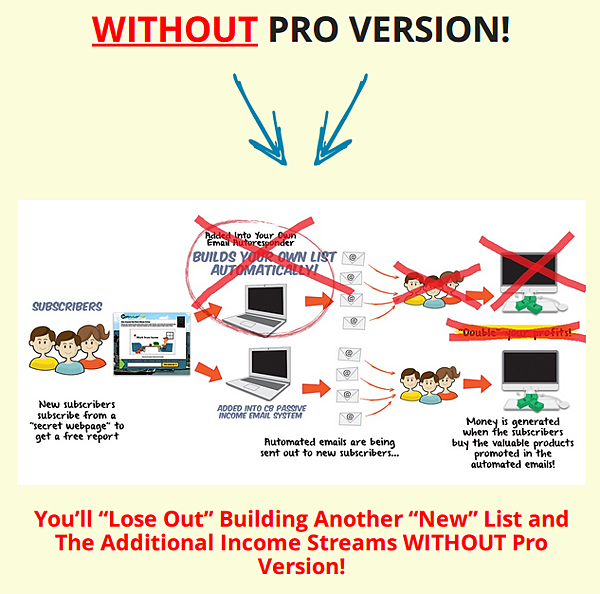 So as you can see, why many never get to stage of building their lists! :)
All you need to do is to add your autoresponder's campaign details inside our CB Passive Income back-end software system. Whenever someone subscribes from your Unique Webpage*, they'll now be automatically subscribed into your list too.
And if you don't like using the optin page with video, you can choose the text-only version inside your client area.
Just think how unbelievably awesome this is. :) Not only that you don't need to get involved with the 4 components above anymore, you get to use the webpage and gift that are PROVEN to convert.
So while your CB Passive Income list (which I'll monetize for you while you do absolutely nothing -- it becomes a 100% automated passive income generator for you) is being build, you're also building "another" list of your own.
Of course, if it's not part of your plan to build another list, you absolutely don't need the Pro Version.
By the way, if you're an experienced marketer, you should definitely upgrade. Because this system will become your list building machine. For instance, I'm using it to build my own list too, despite the fact that I have my own optin pages.